Hayden Kaye Anderson
Home Page
Born Monday January 28, 2013 at 8:26 pm
7 lbs. 11 ozs. 20.5 inches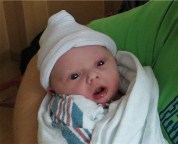 Click on each image to enlarge. Click on each underlined LINK to open.
Hayden at the National ZOO at 8 Months
Haden at the Richmond ZOO at 8 Months
Hayden at 7 Months Dressy Smiles
.