Hayden Kaye Anderson
Home Page
Born Monday January 28, 2013 at 8:26 pm
7 lbs. 11 ozs. 20.5 inches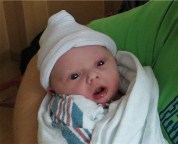 Click on each image to enlarge. Click on each underlined LINK to open.
Tuesday - Candace & Adam Nelson, Meghan's sister and her husband, Visits
Wednesday - Meghan's brother Wil and girlfriend Lindsay Visits - Hayden is dressed for going home.
Thursday - Saying Goodbye for a few days.
First Visit to Colonial Heights
California Spring Break with Hayden
.